The Advantages of Buying Steel Online with SteelonCall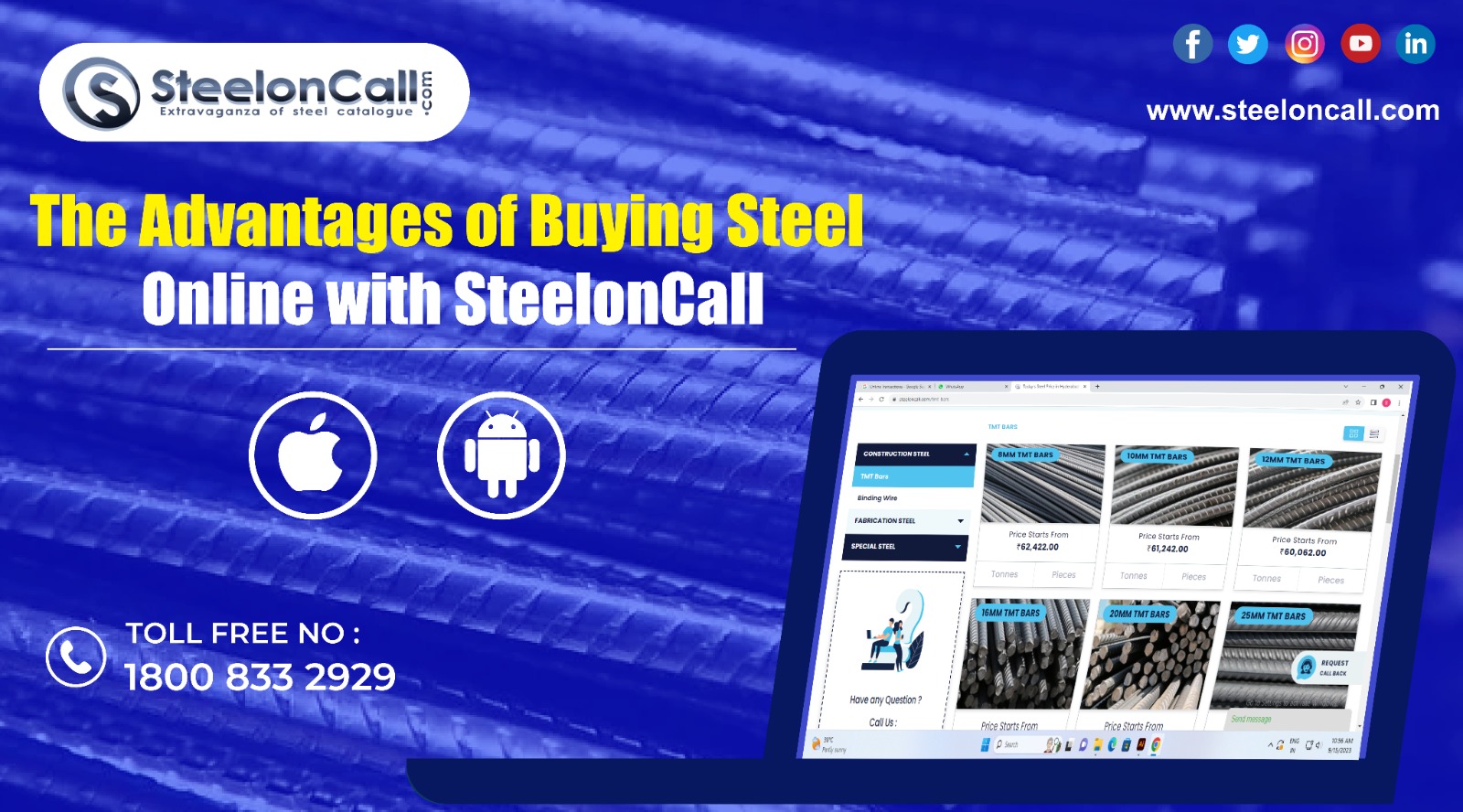 Buying Steel online is essential in today's quickly changing industries, acting as the foundation for building, manufacturing, and infrastructure development. As businesses seek efficient and convenient ways to acquire this indispensable resource, SteelonCall emerges as a pioneer in the realm of online steel purchase.
SteelonCall provides a seamless online steel sales experience with its user-friendly design and wide inventory. SteelonCall's platform delivers the ease and dependability required to buy steel online conveniently, whether you are a contractor, builder, or person in need of steel.
Extensive Product Range and Easy Navigation
The possibilities are endless with SteelonCall. The platform offers a wide selection of steel goods to meet the varying requirements of numerous sectors. SteelonCall has a wide variety of steel products available to satisfy the needs of a variety of construction endeavours, including structural steel beams, pipes, sheets, and coils.
SteelonCall's sophisticated search tools and clean website design make it simple to find exactly what you're looking for in the extensive selection. Customers may quickly and easily look for steel of a certain size, grade, or kind, saving them time and energy in the process of sourcing.
Competitive Pricing and Cost Savings
Tata Steel online prices are a major selling point for the company's product. SteelonCall cuts out the middleman and passes the savings on to the client by developing direct relationships with producers.
This means that consumers can get premium steel at competitive prices, increasing the viability of their projects. SteelonCall's already low prices get even better with their bulk order discounts, saving businesses even more money on their steel needs. The reduction in expenses has a significant impact on project profitability.
SteelonCall provides reasonable rates for tata steel online and JSW steel online price that cover a range of steel needs, including Tata TMT 12mm pricing.
Our associations with trustworthy manufacturers, like Vizag Steel, guarantee the availability of high-quality steel products at reasonable prices, making them a dependable option for all your steel requirements.
Convenient and Secure Online Transactions

Gone are the days of lengthy paperwork and in-person visits to purchase steel. SteelonCall simplifies the process by providing a convenient and secure online platform for transactions. Without being limited by regular store hours, customers may shop and place orders whenever it is most convenient for them.
Online payments are safe since the website uses advanced encryption to safeguard consumer data. Customers may rest easy knowing that their private information will be protected during any and all transactions thanks to these measures.
Expert Assistance and Technical Support

Buying steel online may seem daunting for some, especially when specific technical details need to be considered. SteelonCall understands this concern and goes the extra mile to provide expert assistance and technical support to its customers. If you have any queries about the types, grades, or uses of their products, they have a team of knowledgeable experts ready to help you out.
SteelonCall's experts are available to help customers choose the correct steel product for their needs and explain why it will work for their project. In addition, SteelonCall offers thorough product descriptions and certifications, allowing clients to make educated steel purchase decisions.
Reliable Delivery and Logistics

Timely delivery of steel products is crucial for project timelines and overall efficiency. SteelonCall takes pride in its reliable delivery network, ensuring that orders are shipped promptly and reach customers' preferred locations on time.
The platform collaborates with reliable logistics companies that focus on steel shipments. By working together, producers and retailers can rest assured that their steel goods will arrive at their destinations in one piece.
SteelonCall's website provides a streamlined tracking system that keeps consumers apprised of the delivery status of their orders and at ease. Construction and manufacturing managers might benefit from this clarity in their planning.

To Sum Up
Buying steel online has changed the game for businesses and consumers alike in the present era of digital ease. When it comes to purchasing steel online, SteelonCall is without peer. SteelonCall stands at the forefront of online steel purchase, providing an extensive product range, competitive pricing, convenient transactions, expert assistance, and reliable delivery.
With the platform's intuitive design, powerful search tools, and extensive stock, locating the ideal steel product is a breeze. SteelonCall's affordable prices and bulk order discounts help make projects more feasible financially. Customers may rest easy knowing that their private financial data is protected when purchases are made over a secure internet channel.
SteelonCall's team of experienced professionals is dedicated to providing expert assistance and technical support, making the process of buying steel online more accessible and stress-free. With a reliable delivery network and seamless tracking system, SteelonCall ensures that steel products reach customers' desired locations in a timely and secure manner.