Buy best brand steel from steel on call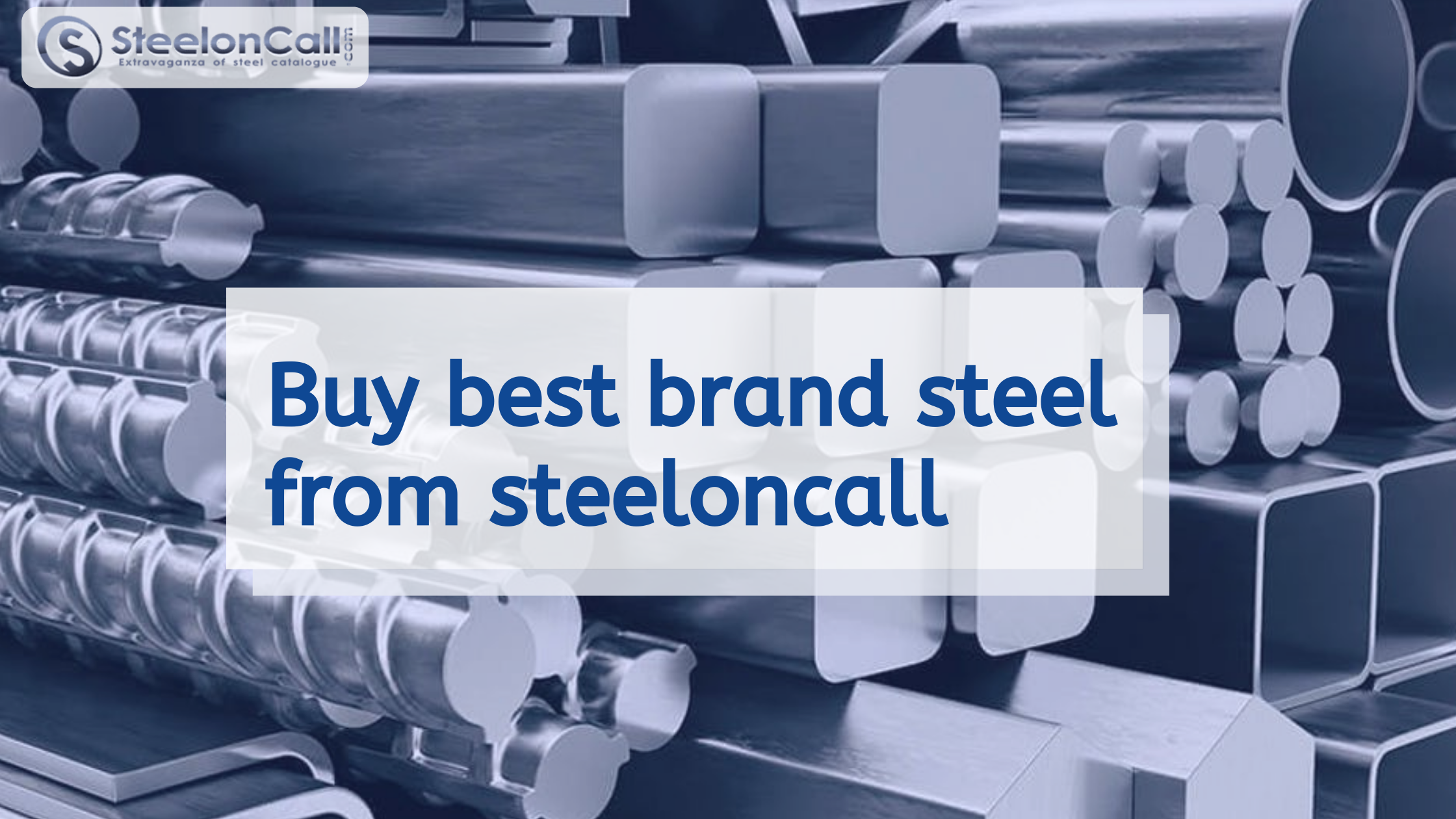 Steeloncall is the ideal place to get high-quality steel at a low price. It establishes an online market for purchasing steel. It is breaking up the conversational approach for the steel company with digital advancement. This website is appropriate for your body type if you are a buyer. Steeloncall has created an online steel marketplace using superior web technologies and logistics. We have a large selection of steel, with over 1000 catalogues and different sorts of steel. We are now dealing with around ten well-known businesses. You don't have to be concerned about purchasing steel with our support since we always give exceptional quality.
Here is the list of best brands available at steel on call to buy steel or buy steel online.
You may scroll through the article to know more about buying the best-branded steel.
TATA Tiscon
TATA is a very old organisation in India. It is well known as the brand that always provides superb quality service. It has the strongest foundation in India. It is almost the first-ever Indian organisation well-known for its world-class steel. Its quality and material are so superior that it ranks high in India's top 10 steel companies.
TATA Tiscon Fe-500 is a high strength ribbed TMT reinforcement bar manufactured of high-quality, controlled steel. TATA Steel offers a variety of Tata steel TMT Bar Services and commodities to high-demand industries like autos, packaging, and construction. The Tata Tiscon 500's D size ranges from 6mm to 40mm. Tata Steel will also produce locomotive components, agricultural equipment, machinery, tinplate, cable & wire, and building rebars.
VINAYAK 500
VINAYAK 500 Profiles Private Limited is one of the largest Automatic Bar Rolling Mills in Andhra Pradesh, with cutting-edge technology and facilities.
The organisation has a reputation for adopting the most recent technology breakthroughs and engaging in process and product innovation. It is high-quality steel at a reasonable price. IT is India's first medium-sized private sector mill to use TMT (Thermo Mechanically Treated) rebars, setting the industry standard in 1998. The company is also credited with being the first to manifest and apply the auto in angle bar receiving system and the automated bar bundle bending device, both outstanding innovations that assist in product improvement and speed.
Simhadri TMT
Simhadri TMT is a brand name manufactured by M/s. Steel Exchange India Ltd, a company of the Vizag Profiles Group. Steel Exchange India Ltd. can deliver high-quality Simhadri TMT Bars due to total automation, process integration, and facility integration. Simhadri TMT Steel bars are BIS certified and meet IS 1786-2008.
Jindal Steel and Power Ltd (JSPL)
Jindal Steel and Power Ltd (JSPL) has announced the launch of Jindal Panther TMT Bars, a new retail brand. JSPL Panther is India's third-largest steel mill, supplying JSPL Steel bars to customers across the country. JSPL produces mild steel, structural steel, hot rolled plates, mild steel slabs, ferrochrome, etc. Jindal Panther TMT Rebars are inspired by the strength and legality of the strong panther and promise to empower each Indian construction by providing strength and purity.
Purchase JSPL Panther steel bars at a low cost, which will benefit building projects. The newest online high yield quenching and self tempering (HYQST) technology is used in JSPL TMT rebars.
Vizag Steel
Vizag Steel Plant is a prominent steel brand made by RINL (Rashtriya Ispat Nigam Ltd) in India. Structural Bars, Wired Rods, Coils, and other important goods are available from Vizag Steel. Vizag TMT Bar is available in the following sizes: 8mm, 10mm, 12mm, 16mm, 20mm, 25mm, 32mm, and 36mm. Find TMT Bars, Steel TMT Bar manufacturers, exporters, and suppliers in India. Details about TMT's finest bars in Visakhapatnam are offered here to supply Vizag steel supplies throughout India.
Tensile yield strength ratios are always more than 1.12, resulting in a structure with good strength and a consistent elongation factor. RINL, commonly known as Vizag Steel, will provide the majority of quality goods and customer satisfaction.
Beekay
Beekay has been fulfilling the evolving demands of steel consumers for over 50 years. Today, with operations in West Bengal, Jharkhand, Andhra Pradesh, and Tamil Nadu, we produce the greatest range of steel products among steelmakers, with an annual turnover of more than Rs.800 crore ($ 130 million), demonstrating our manufacturing prowess.
To create steel to your specifications, we use several procedures such as Hot Rolling, Cold Drawing, Thermo-Mechanical Treatment (TMT), Peeling & Grinding, and Machining. Our goods are widely employed in the automotive industry, engineering industries, infrastructure, and railways. We manufacture steel in a variety of forms, sizes, and properties.
Jairaj Ispat
Jairaj Ispat Ltd is a non-government corporation founded in the public sector. Jairaj steel was part of the production of basic iron and steel. It manufactures direct reduced iron (DRI) and thermo-mechanical treated (TMT) rebars, utilised to construct buildings and other projects. The Jairaj bars' distinctive design allows a greater grip with concrete and achieves Jairaj TMT bar scores well on flexibility, elongation, high-stress ratio, and strength.
Final Words
You can expect hassle-free shipping, a simple return policy, and high-quality steel suppliers with all of this. We have a single goal: to make the building more flexible and convenient for you.
We understand how time-consuming it is to get steel. Thus we have consolidated all of your steel needs. We also provide local merchants with the opportunity of becoming our authorised supplier, but only after our expert team has confirmed the products' quality. To summarise our steel services and quality, we declare that we are a single steel marketplace that aids with all superior services. We also want to be the country's steel marketplace, entertaining customers, suppliers, and manufacturers.