Discover the Excellence of Round Bars at SteelonCall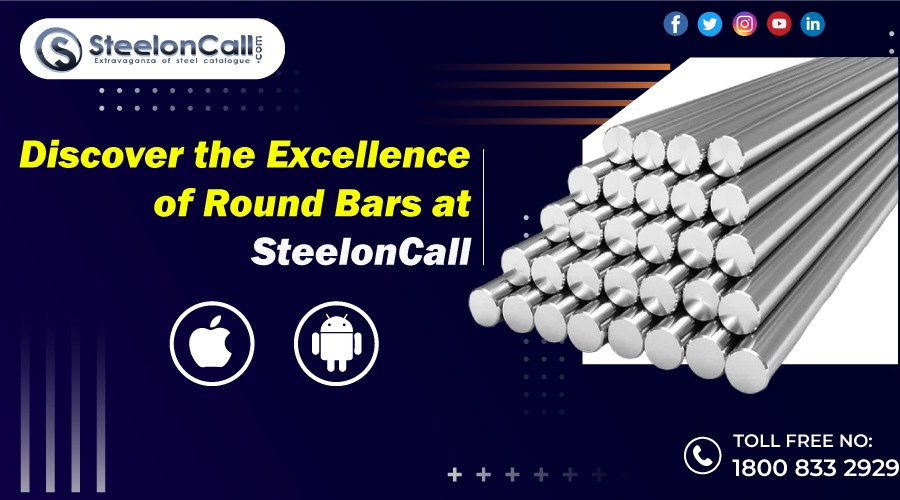 When selling steel rods online, SteelonCall is the best option because it delivers high-quality products to your home. High-quality steel is an essential material for modern engineering and building projects.
SteelonCall's Round Bars are manufactured to exact specifications using only the finest raw materials.
Our site features only trusted names in the industry, such as Vizag steel rods, Beekay steel rods, Jindal steel rods price, Tata Tiscon steel rods, VSP, SAIL, and Rolling. With our dedication to customer satisfaction and seamless online purchasing, we invite you to discover the true potential of steel through SteelonCall.
Unmatched Range of Grades and Brands
SteelonCall is proud to provide its customers with various grades and brands. SteelonCall can supply you with any grade of steel you need, including A105, A105R, 27C15, 37C15, SAE15245, SAE1524CR, and SAE 1541.
Due to their characteristics, different grades can be used for various tasks. SteelonCall guarantees the availability of the ideal grade for each undertaking, whether it necessitates extreme durability or resistance to corrosion.
SteelonCall stands out thanks to its partnerships with well-known companies. Steel goods from these manufacturers are widely recognized as the highest quality. SteelonCall guarantees the greatest quality steel to its consumers by collaborating with reputable brands, giving them faith in their purchase.
Quality Excellence and Commitment to Customer Satisfaction
At SteelonCall, we take immense pride in delivering exceptional quality products to our valued customers. We know that steel's dependability and performance are critical to the success of any endeavour. That's why we've instituted strict measures of quality control to guarantee that all of our Round Bars are up to par.
We have partnered with reliable mills and manufacturers known for their high standards of quality and competence. Thanks to these partnerships, we are able to get our hands on Round Bars from high-quality manufacturers like VSP, SAIL, and Rolling.
Our Round Bars undergo stringent quality inspections and tests at multiple points in the manufacturing process to ensure they consistently meet our exacting standards. We keep a close eye on things like dimensional correctness, surface quality, and chemical composition to make sure every bar is up to par.
Expert Guidance and Customization
Choosing the right steel grade for a project can be a daunting task. SteelonCall is aware of this, which is why it has staffed its help desk with knowledgeable engineers and metallurgists.
Customers can benefit from their expertise in order to make well-informed judgements regarding the Round Bars grade that is best suited to their needs.
SteelonCall also goes above and above by allowing for personalization. They are aware that each project is different and may require personalised approaches.
SteelonCall helps customers meet the exact requirements of their projects by providing steel solutions that are tailored to their needs. SteelonCall's dedication to its customers is seen in its capacity to produce Round Bars with a wide range of customization options, including size, form, and material.
Convenience of Online Steel Buying
Gone are the days when procuring steel meant visiting multiple suppliers and engaging in lengthy negotiations. SteelonCall provides a streamlined digital environment in which to purchase steel. SteelonCall makes it simple and quick to buy Round Bars online.
The platform's intuitive design makes it simple for users to peruse the available grades and brands, evaluate their features, and make educated purchases. Customers are spared any unpleasant financial surprises thanks to the straightforward nature of the price structure.
SteelonCall guarantees fast and reliable service once an order has been placed. They promise that the Round Bars will arrive at the customer's location undamaged and on time thanks to their efficient distribution system. Because of the time and money saved by this method, customers may focus on their primary tasks rather than steel procurement.
SteelonCall offers safe payment methods, protecting customers' financial data and boosting their pleasure. In addition, they have a helpful team of customer service representatives that are always on hand to answer questions and address concerns.
To Sum Up
SteelonCall is at the forefront of the steel industry, and its online platform offers a wide variety of Round bars. SteelonCall offers an unrivalled variety of grades and reputable brands, ensuring that consumers may discover the ideal steel product for their needs.
The platform is a trusted and credible source of steel because of its dedication to quality assurance, certifications, and customer satisfaction.
SteelonCall continues to innovate the steel procurement process by giving customers access to experts, allowing for individualised service, and selling their products online.
Discover the full potential of steel in your next endeavour by perusing the superior Round Bars at SteelonCall. Discover how SteelonCall can take your projects to the next level by trying it out for yourself and benefiting from the ease, quality, and service it provides.