Export duty Removal - Helps Steelmakers to Improve Financial and Operational Execution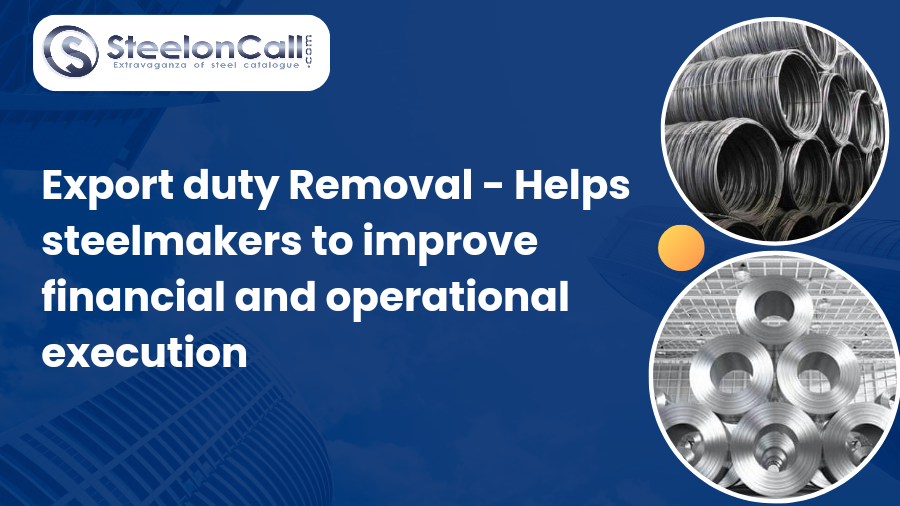 The government's decision to eliminate the export duty on steel products will help steel companies improve their financial and operational performance, according to a top official at Jindal Steel and Power Limited (JSPL).
Steel companies faced difficulties in the July-September quarter of the past year due to various factors, including high input costs, JSPL Managing Director Bimlendra Jha told PTI over the phone.
When asked about the impact of the government's action, Jha stated that "it was a much-awaited move" that will improve steelmakers' financial and operational performance. The top domestic steelmakers, including JSPL, Tata Steel, and JSW Steel, either reported losses or saw a significant drop in net profits in the July-September quarter, citing adverse market conditions. The government has reduced the export duty on steel products and iron ore to zero, effective November 19, 2022, six months after the levy was imposed on May 21.
How Steeloncall supports Export Duty Removal
Export duty removal is an important measure that can help steelmakers reduce costs and increase their financial and operational efficiency. Steeloncall, in particular, benefits from this initiative because every steel we have at us is directly acquired from the steelmakers. So, it obviously impacts us, too, even though we are not Steelmakers. Let's get into this on a more detailed note.
By eliminating export duties, the cost of the raw materials used for steelmaking is reduced, reducing the need for additional investments in those raw materials. This also reduces the amount of money spent on the labor involved in the manufacturing process and marketing operations, as there are fewer costs associated with raw material procurement. So, this is directly or indirectly proportional to the price of the steel, which will impact steel makers, suppliers, and buyers.
According to a notification, the import duty on anthracite/PCI, coking coal, and ferronickel – used as raw materials in the steel industry – has been raised to 2.5 percent. In contrast, the duty on coke and semi-coke has been raised to 5%, up from 0%. "I am confident that when coking coal prices reach an unsustainable level, the government will remove the duty because India is heavily reliant on imported coking coal for steel production," he added. The two primary raw materials used in steel production are coking coal and iron ore. While iron ore is readily available in India, coking coal must be imported. The country imports 85 percent of its coking coal requirements, primarily from Australia.
How will we benefit from it even though we are just a steel suppliers
Furthermore, export duty removal allows for higher-quality steel to be produced. Since the acquisition cost for raw materials is lower, the steel quality is higher. The higher quality of steel helps increase the efficiency of steel production, which benefits both steelmakers and their customers. So it benefits us too, as we play a bridge role between the steel makers and buyers.
Export duty removal also allows us to diversify our portfolio by sourcing materials from various manufacturers. This not only helps reduce the cost of raw materials for manufacturers but also gives them access to new markets and opportunities and can help them increase profit margins.
Overall, export duty removal is a great opportunity for Steeloncall, as it improves the steelmaker's financial and operational stability. Being a steel supplier, in one way or the other, it will impact our business, too, for good. By reducing the cost of raw materials and expanding their sources, the manufacturers can grow their business and increase their profitability. This, in turn, can lead to increased job creation and economic growth in the region.
In conclusion, the removal of export duty will positively impact the steel industry, from steelmakers to steel suppliers and buyers. Removing the duty should make it easier for steelmakers to improve their financial and operational execution, benefitting the industry as a whole and improving the global metals market. Furthermore, with the lower cost of production, steel suppliers and buyers should also benefit from lower operational costs, allowing for more fair prices in the market. This can provide a boon to the entire steel marketplace as prices become fairer.
Additionally, the lower cost should enable steelmakers to increase production, driving greater innovation and helping to ensure that the steel industry remains a stable and important part of the global economy. Overall, by removing the export duty, the steel industry is poised to achieve advancements in the near future and make greater strides in the industry.