Online Steel Selling Providers: Quality Steel at Competitive Prices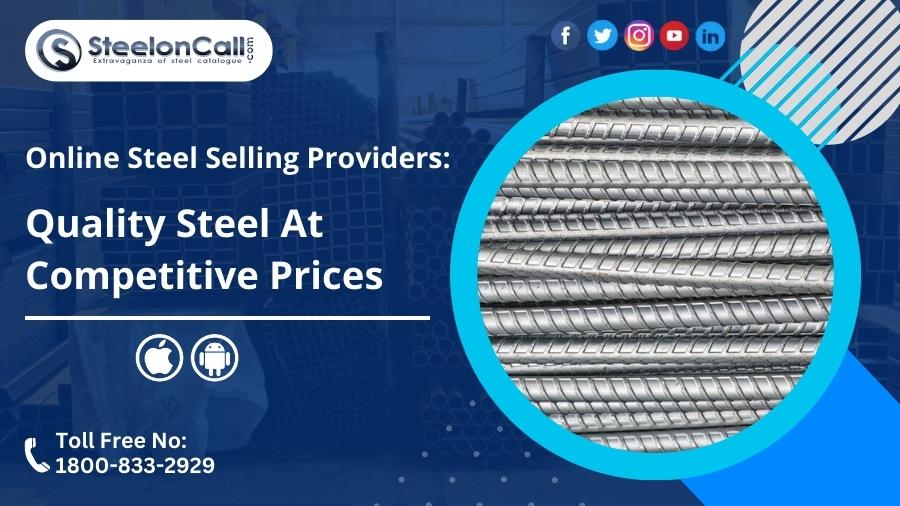 Online steel-selling providers offer steel products for sale through their website or app. SteelonCall is one such provider, offering high-quality steel at competitive prices. Quality steel is essential for various construction and fabrication purposes, and it is crucial to have access to it at a reasonable price. SteelonCall is committed to providing its customers with the best products and services to its customers, and this article will discuss all buying steel online at SteelonCall, with many advantages.
SteelonCall - An Overview
We, SteelonCall, are an online steel seller that offers a wide range of steel products. Our company has a user-friendly website and app for customers to browse and purchase steel products. Product offerings at SteelonCall are divided into three main categories: Construction Steel, Fabrication Steel, and Special Steel.
Construction steel includes steel products used for construction purposes, such as TMT bars, MS rounds, and Binding wire. These products are available in various shapes and sizes to meet the needs of different construction projects.
Fabrication steel creates metal structures through cutting, bending, and assembling processes. SteelonCall offers a wide range of fabrication steel products, including MS Rounds, MS Angles, MS Squares, MS Channels, MS Sheets, MS Plates, MS Flats, MS Rectangular Pipes, MS Round Pipes, MS Square Pipes, MS Unequal Angles, and ISMB.
Special steel includes steel products with unique properties for specific construction purposes, such as resistance to corrosion or high strength. SteelonCall's Special Steel products include Stainless Steel, EN Rounds, Sailma Plates, GP Sheets, and Seamless Round Pipes.
Competitive Prices Offered by SteelonCall
Our company's pricing strategy ensures customers get the best value for their money. One of the main features of the pricing strategy is transparency. We provide transparent pricing for all our products, ensuring customers know exactly what they are paying for.
Another aspect of the pricing strategy is bulk discounts. We offer discounts on bulk orders and daily, weekly, and monthly-based coupons, which allows customers to save money when purchasing large quantities of steel. Our company also offers competitive rates, ensuring customers get the best prices possible.
In comparison with traditional steel sellers, SteelonCall has lower overhead costs. Our company can offer steel at lower prices than traditional sellers. The competitive rates offered by SteelonCall make it an attractive option for businesses and individuals looking for quality steel at affordable prices.
Quality Assurance at SteelonCall
At SteelonCall, we consider quality in the first place, and our company has put in place measures to ensure that customers receive quality products. Our quality checks start during procurement. We thoroughly verify the materials we ship from the corresponding steel manufacturers to ensure they meet the required standards. We also adhere to industry standards to ensure that customers receive products of the highest quality.
After shipping from steel manufacturers, SteelonCall performs stringent quality checks to ensure the steel meets the required standards. We also perform in-house testing to ensure the steel meets the required specifications. SteelonCall verifies product specifications during delivery to ensure customers receive the correct products.
Customer Service at SteelonCall
SteelonCall is committed to providing excellent customer service. We have a customer-centric approach that ensures customers' needs are met. The ordering process is easy, and customers can place their orders online. We communicate transparently, ensuring customers are informed about their orders' status.
We also ensure the timely delivery of products. Customers can expect to receive their products within the agreed timeline. If customers have any issues or concerns, SteelonCall provides responsive customer support to address their needs.
Advantages of Buying Steel Online at SteelonCall
Buying steel online at SteelonCall comes with several advantages.
Convenience
We offer convenience to customers as they can purchase steel from anywhere without the need to visit a physical store. This feature allows for flexibility, especially for customers located in remote areas or those with busy schedules.
Competitive Prices
We offer competitive prices due to reduced overhead costs and bulk purchasing. These savings are passed on to the customer, making the prices more affordable than traditional steel suppliers.
Transparency
We provide pricing and product information transparency, allowing customers to make informed decisions before purchasing. This transparency creates trust between the provider and the customer, ensuring a long-lasting relationship.
Conclusion
SteelonCall is a reliable and affordable online selling provider offering quality steel at competitive prices. Our commitment to quality assurance, customer service, and transparent pricing has made it a popular choice for businesses and individuals looking for quality steel at affordable prices. Whether you need steel for construction, manufacturing, or other purposes, SteelonCall can fill your needs.