SteelonCall: Ensuring Transparency and Trust in Online Steel Transactions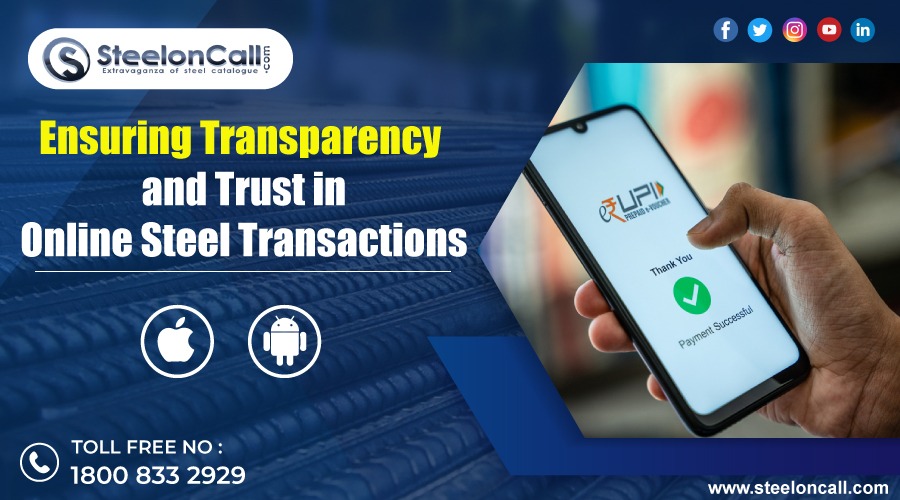 SteelonCall is your one-stop shop foronline steel sales that go smoothly. In today's fast-paced world, the convenience of online steel purchase has become indispensable for buyers and sellers alike. At SteelonCall, we are proud to have changed the steel business with our easy-to-use platform that puts a wide range of steel products right at your fingertips.
Transparency and trust are at the heart of what we do, so you can buy steel online with confidence and peace of mind. With SteelonCall, you can take a step into the future of steel deals, where efficiency and reliability work well together.

Seamless Online Steel Purchase Experience
One of the primary advantages of online steel sales is the ease and accessibility it provides to buyers. SteelonCall's intuitive design elevates the standard for this type of service. The platform is designed to be as user-friendly as possible while still meeting the needs of a wide range of customers, including both construction companies and individuals in search of structural steel.
The buyer-friendly layout of the website provides quick access to the company's comprehensive catalogue of steel products, replete with photos and technical details. Because of this openness, purchasers are able to pick the perfect size, grade, and shape of steel for their needs.
Verified Suppliers and Quality Assurance

Trust in the authenticity and quality of the products is crucial when buying steel online. SteelonCall eliminates this risk by working exclusively with reliable vendors and manufacturers. Each vendor is thoroughly screened to ensure they are in conformity with industry norms.
SteelonCall also places a premium on quality assurance to continue its dedication to openness. Before being added to the marketplace, all steel items are subjected to stringent quality inspections. This guarantee ensures that customers receive authentic, high-quality steel that lives up to their standards.
Transparent Pricing and Real-time Updates

SteelonCall, a leading online marketplace for steel products includingTata Tiscon, Vizag Steel, Radha TMT, and Jindal Panther price list. The platform is committed to providing reasonable and clear pricing to guarantee that users receive excellent value for their money. Buyers may make educated choices thanks to consistent real-time updates on steel costs and market variations.
The platform's pricing transparency also extends to any additional charges, such as delivery fees or taxes. There are no surprise fees, and the complete amount is displayed before the customer even makes their purchase.
Customer Support and Dispute Resolution
SteelonCall recognizes that a seamless online steel purchaseexperience requires excellent customer support. Professionals are standing by to help buyers and sellers at any point during the platform's transaction procedure.
The customer service team makes sure everything goes off without a hitch by responding to questions about products, explaining price, and helping with order placement.
SteelonCall has a fair and effective dispute resolution procedure in place in the unlikely event that a disagreement or issue arises with a purchase.
The platform's dispute resolution process is designed to be quick and impartial so that everyone involved is happy with the outcome. SteelonCall's reputation as a trustworthy online steel marketplace is bolstered by the company's dedication to its customers.
Ensuring a Bright Future for Steel Transactions
Acceptance of the digital age is crucial to the development and longevity of the steel sector. For both buyers and sellers, the revolutionary nature of steel transactions online cannot be overstated. SteelonCall's dedication to openness and trust improves the online steel purchasing process and bodes well for the future of the industry as a whole.
SteelonCall is an industry leader because of its commitment to openness in price, product quality, and supplier verification. Customers may shop for steel on our site with full faith, knowing they are dealing with a reliable business that places a premium on their happiness as a client.
To Sum Up
SteelonCall's unique approach to online steel sales has undoubtedly revolutionised the steel industry. The platform's user-friendly interface, verified suppliers, transparent pricing, and exceptional customer service have earned the confidence of countless buyers and vendors.
In a world where convenience and dependability are paramount, SteelonCall is a beacon of trust and openness in the online steel marketplace. As the industry continues to develop, platforms such as SteelonCall will unquestionably play a crucial role in moulding the future of steel transactions.
Therefore, if you want to buy steel online with confidence and ease, SteelonCall is the best place for all your steel requirements. Embrace the future of steel purchasing with SteelonCall, where honesty and reliability are the foundation of every transaction.