SteelonCall: Simplifying the Steel Buying Process for Businesses and Individuals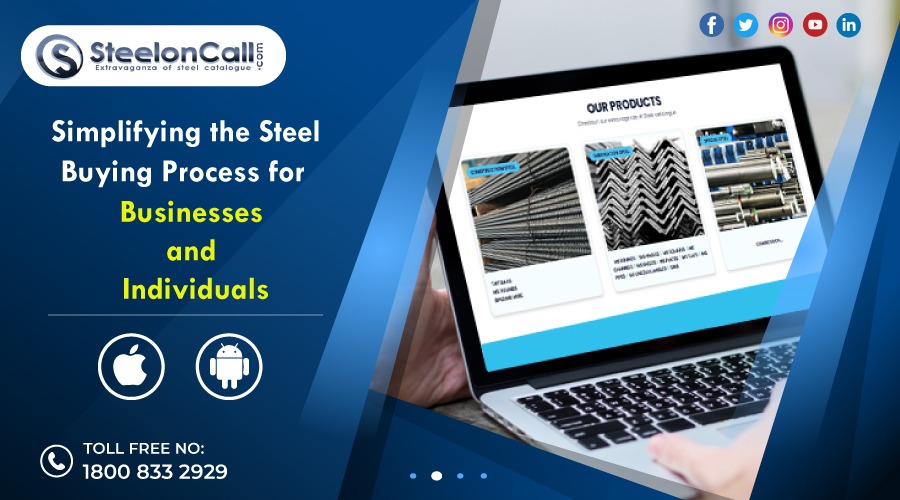 The process of procuring steel has evolved, offering businesses and individuals a convenient solution through online steel sale platforms. SteelonCall is in the vanguard, revolutionizing the conventional steel purchasing process.
SteelonCall simplifies the complexities of online steel purchasing through its user-friendly interface and competitive pricing. Now, customers can browse and buy steel online with ease, as the entire process, from selection to secure payment options, has been streamlined.
Using the power of technology, SteelonCall seeks to make steel procurement simple and effective for everyone.
Steel Procurement with User-Friendly Online Platform

SteelonCall's user-friendly online platform has revolutionized the steel industry, making it easier for customers to acquire quality steel products from various trusted brands, including beekay steel, tirupati steel, jairaj steel, and vinayak steels.
The website is user-friendly, allowing customers to browse the extensive selection of steel goods for sale with no effort. SteelonCall provides a wide variety of steel products, from structural to sheet metal, to meet a variety of demands.
The user-friendly interface of the website facilitates in-depth product comparisons across a wide range of criteria, including features, cost, and more. The shopping process is streamlined and quick for the customer because items may be added to the cart with a few clicks.
Moreover, SteelonCall ensures complete transparency in pricing. The days of haggling over rates and discovering unexpected fees are over. Customers can easily understand their costs because to the platform's transparent pricing structure. Users' faith in SteelonCall is bolstered by its openness, making it a go-to site for buying steel online.
Streamlining the Steel Purchase Process
Purchasing steel has historically necessitated lengthy processes, which frequently caused projects to run behind schedule. SteelonCall, however, has revolutionized this procedure by expediting the entire shopping experience.
Following successful product selection, the platform walks buyers through a streamlined and protected checkout procedure. Customers can enjoy the benefits of convenience and adaptability with the availability of several payment methods.
Customers may rest easy knowing that SteelonCall will handle everything after they've made their purchase. The ordered steel will be delivered promptly to the clients' doorsteps thanks to the platform's dependable and effective delivery system.
The stress of logistical coordination is removed, allowing businesses to keep to their schedules and finish their projects on time, all thanks to this streamlined delivery process.
Catering to Businesses and Individuals

SteelonCall understands that the steel buying requirements of businesses differ from those of individuals. Therefore, the platform serves the requirements of both markets by providing adaptable features to meet a range of requirements.
SteelonCall is happy to accommodate large purchases, allowing businesses to stock up on necessities with little effort. Industries like construction, infrastructure development, and manufacturing that use a lot of steel can benefit greatly from the availability of steel for sale online.
However, consumers often have specific steel requirements for DIY tasks and other low-volume endeavors. SteelonCall satisfies these needs by letting shoppers buy steel online in smaller quantities, reducing waste and saving money. This not only helps keep costs down, but it also reduces waste and supports eco-friendly actions.
Personalized Customer Support

In the digital age, customer support remains a crucial aspect of any online service. SteelonCall recognizes the importance of providing exceptional assistance to its users.
The platform provides individualized assistance to answer questions and address problems. Users may count on a specialized team of pros to help them out at any point in the buying process. SteelonCall is unlike other steel suppliers because of the individual attention it gives each of its customers.
To Sum Up

SteelonCall is a game-changer since it has made it easier for both businesses and consumers to buy steel. The company's innovative online platform simplifies the process of purchasing steel, expanding the market, and saving time and money in the process.
SteelonCall has simplified the process of purchasing steel by providing a wide variety of items, clear pricing, and streamlined payment and delivery. Customers can now buy steel online with confidence, whether they need it for a large-scale project or a personal venture, because they have a dependable and trustworthy platform to do so.
SteelonCall is ahead of the curve, embracing innovation and connecting steel producers and consumers as the steel industry adapts to the changing technological landscape. SteelonCall helps to streamline the steel purchasing process, which in turn reduces administrative overhead and improves efficiency.