Transforming Construction with Best TMT Bars : SteelonCall, Your Online Steel Selling Platform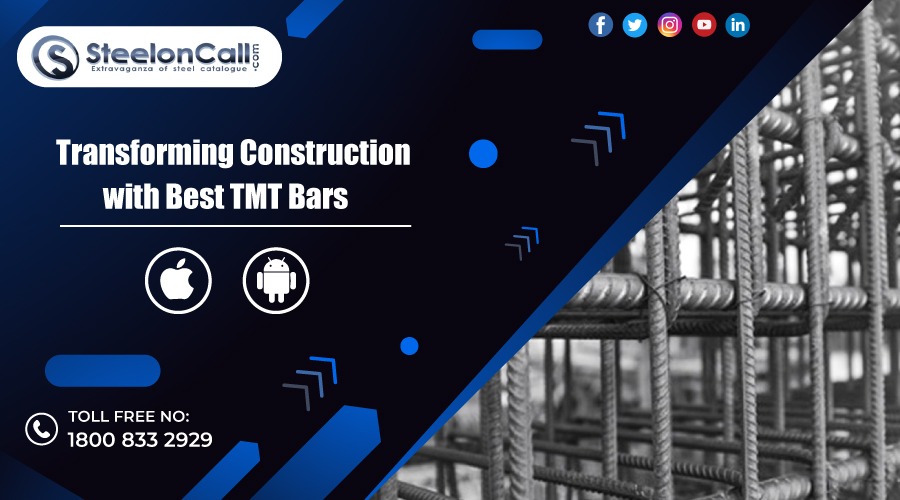 Steel for Construction is the backbone of the construction industry, providing structures with strength and longevity. Regarding steel, TMT (Thermo-Mechanically Treated) best steel for house construction cannot be overlooked. Its exceptional qualities make it an excellent alternative for building projects.
We are delighted to present you to SteelonCall, an online steel-selling platform that provides a diverse choice of TMT Bars from well-known brands. Let's explore the world of TMT steel and learn about the brands and grades available from SteelonCall.
Overview of TMT Steel
TMT steel, a technologically superior variety of steel made in a certain way, has been around for a while. By carefully manipulating heat and mechanical deformation, we may create materials with superior strength and flexibility.
Due to this treatment, the steel has a far higher seismic resistance, making it a preferred option in earthquake-prone areas. TMT Bars has excellent corrosion resistance, making it a good choice for long-lasting constructions in various climates.
Scaffolding in construction is essential for supporting workers and building supplies. There are various types of scaffolding in construction to choose from, each with its own advantages.
Brands Available on SteelonCall

VSP (Vizag Steel Plant): Vizag Steel Plant (VSP) is a well-established brand known for its reliability and high-quality steel products. Among the several VSP TMT grades that SteelonCall is pleased to provide, notable mentions go to HSCRM D and HSCRS D (FE 500D).
These grades are among the most robust and flexible, guaranteeing that your projects will stand the test of time.
SAIL (Steel Authority of India Limited):
The Steel Authority of India Limited (SAIL) is a prestigious company with a long history of success in the steel business.
Among the TMT steel grades produced by SAIL, SteelonCall is proud to showcase HSCRM D and HSCRS D (FE 500D). You can trust in the durability and lifespan of your steel building construction when they are made using SAIL's TMT Bars.
JSPL (Jindal Steel and Power Limited):
Jindal Steel and Power Limited (JSPL) is renowned for its innovation and technological advancements in steel production.
SteelonCall stocks multiple JSPL TMT grades, including the famous HSCRM D and HSCRS D (FE 500D) varieties. TMT steel from JSPL, available on SteelonCall, is of the best quality and will last for the duration of your projects.
JSW (JSW Steel Limited): JSW (JSW Steel Limited) is a company that has been well recognised as a leader in producing high-quality steel in an environmentally responsible manner.
Among the many TMT steel grades available from JSW, SteelonCall is pleased to showcase HSCRM D and HSCRS D (FE 500D). You can trust that the constructions you create with JSW's TMT Bars will stand the test of time since the company is dedicated to quality.
Advantages of Choosing SteelonCall for TMT Steel
Convenience and Ease of Purchase: SteelonCall's online platform makes it simple to get the TMT steel grades you need from reputable suppliers like VSP, SAIL, JSPL, and JSW. The days of making repeated trips to different stores or suppliers are over. SteelonCall allows you to place your order quickly and easily from the comfort of your own home or office.
Wide Range of Grades and Brands: SteelonCall carries many different grades and brands of TMT steel, including VSP, SAIL, JSPL, and JSW. With such a wide selection, you can find the perfect grade for your project. SteelonCall is here for you whether you require improved durability, more excellent ductility, or protection from corrosion.
Quality Assurance and Timely Delivery: SteelonCall knows the value of quality assurance in building projects, and they always deliver on time. SteelonCall guarantees you will obtain genuine, high-quality TMT Bars because of its partnerships with well-known brands.
In addition, SteelonCall places a premium on prompt delivery, so you can rest assured that your steel will show up at the construction site when needed.
Competitive Pricing and Cost Savings: SteelonCall's TMT steel is priced competitively, allowing you to buy the metal you need without breaking the bank. SteelonCall lets you save money on traditional steel sourcing techniques by streamlining the procurement process and removing intermediaries.
To Sum Up

TMT steel is essential in the building sector because of its strength, longevity, and security. Among the many types of TMT steel available on SteelonCall are those made by industry heavyweights like VSP, SAIL, JSPL, and JSW.
SteelonCall offers many advantages, like low prices, a wide selection of high-quality steel, and the simplicity of online purchases. When you need TMT Bars for a home, business, or factory, you can count on SteelonCall to be there for you.
Check out SteelonCall's website today to learn more about the many grades of TMT steel it offers and to get a feel for the high quality of its services. SteelonCall's TMT steel can let you construct with certainty and durability.