What Are the Uses Of MS Sheets And MS Plates?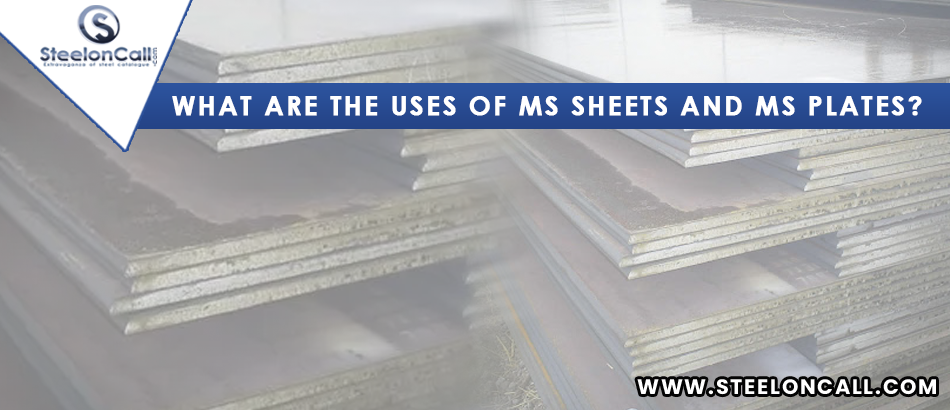 Mild steel contains around 0.05–0.30% carbon making it malleable and ductile. Mild steel has moderately low elasticity, however, it is modest and simple to shape; surface hardness can be expanded through carburizing. In these mild steel, there are a few elements included which are utilized in the construction process and they are like MS rounds, MS angles, MS squares, MS channels. MS sheets, MS plates, MS flats, MS pipes, MS unequal Angles and ISMB. Steeloncall offers all these materials at affordable prices.
BENEFITS OF USING MS SHEETS
MS sheets are excellent quality, strong completion models, climate obstruction and high rigidity. These collections are generally acclaimed by our customers. We can provide these mild steel sheets in different grades, length, thickness and weight as per the customer requirements which are used for the construction of buildings or other structures.
The mild steel sheets and MS plates manufactured from a steel alloy that possesses the physical properties of thickness, young's modulus, reactivity and electrical conductivity, however, the engineering properties are very different. Some of the properties of MS sheets are high shear strength and high tensile strength. At the point when mild sheet steel is galvanized, it has protective zinc covering that secures against erosion. Hot work, for example, drilling, cutting, welding or brazing ought to be controlled to limit the hazard from the emanation of the hurtful exhaust. Metal steel sheets and plates are reasonable for an assortment of uses, for example, automotive bodywork, security doors and decorative features. In its untreated state, it very well may be effectively cut, shaped or welded. The entirety of our sheet steel is accessible in different thicknesses and sizes, just as custom sizes to meet every individual necessity. Our MS sheets are accessible to arrange online at Steeloncall for customer needs.
BENEFITS OF USING MS PLATES
Mild Steel Plates can be made by huge steel industrial facilities or littler, increasingly particular plants. Steel plates are one of the numerous kinds of steel that can be delivered, different sorts incorporate steel bars, sheets, chunks, rolls, and that's just the beginning. MS plates are frequently utilized for structural and construction applications and military applications. The Ms plate grades, elements and parameters of a steel plate are additionally significant by the way it is utilized. The state of the mild steel plate is rectangular in shape and is utilized in different mechanical and industrial areas for construction projects like construction of a roof, building structures and many more. The mild steel plates are used for the shipbuilding industry and barges or other offshore equipment. they might be manufactured structural parts or they might be executed as fixed pieces. At times incredibly solid steel plates are required, particularly in the construction of large offshore facilities.
Steeloncall offers high-grade mild steel Plate at an affordable price that is perfectly suitable for construction of structures. These MS plates are fabricated utilizing best grade crude material accessible to guarantee global quality. These mild steel plates are available in different shape sizes and thicknesses that are needed for our customers. The MS sheets and MS plates created from steel compounds have physical properties and many more properties. Those properties of steel alloy are high shear strength, free-cutting steel and high tensile strength. Some of the features of MS plates are corrosion resistant, fine surface finishes durability, good weldability, high tensile strength, anti-corrosive body, resistant to corrosion, easy to use, good dimensional accuracy, withstand high temperature, uniformed thickness and superior stress resistance.
MS plates are inferable from the creative and ultra-modern manufacturing strategies we can introduce the exceptionally acclaimed scope of mild steel plates that are confided in generally for its remarkable strength. The offered MS plates are fabricated under a profound examination of our qualified specialists. Mild steel plates or structural steel plates are just sheet material made of steel that can be utilized to make an immense assortment of items and structures. It is both consumptions and scraped spot safe. Mild steel plates are utilized to construct warehouses, buildings, bridges, railway stations, etc. Just as being accessible from stock all mild steel plates can be cut to size and shape as indicated by your manufacture and structure prerequisites and all work is administered by our freely authorized and normally inspected quality frameworks.
MS plates and MS sheets are utilized in different ventures and are acknowledged for properties of high rigidity, consumption opposition and long-life utilization. According to the definite demands of our customers, we will give standard plates. Mild steel hot rolled plates are manufactured by our reliable merchants utilizing top-notch material. Dimensional exactness and sturdiness are hardly any noteworthy highlights of our offered run, which has additionally expanded its interest in the market.