What is the Difference between Fe 415, Fe 500, Fe 550 and Fe 600 TMT grade bars?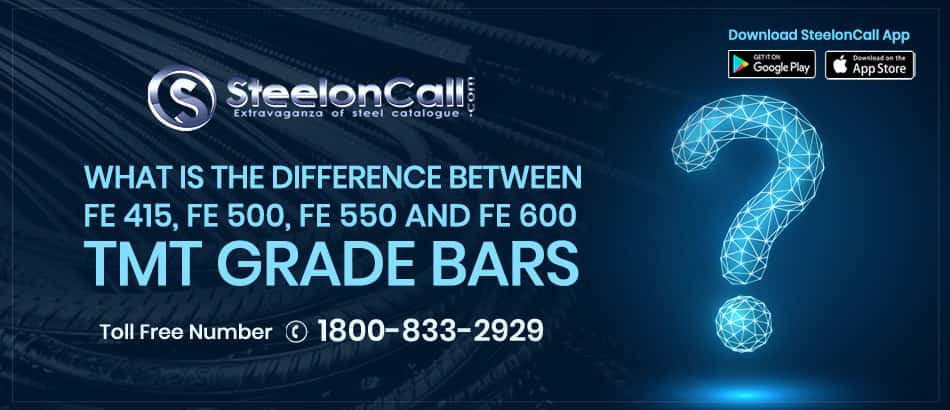 Every change of the steel business was driven by the developing business sector requirement for steel bars with higher quality and stretching. The 21st century has seen a fast increment in the expense of steel items and furthermore welcomed a more noteworthy spotlight on wellbeing and quality standards of development. This has prodded the interest for improvement for TMT bars with properties of high quality and lengthening to give cost investment funds in the development by lessening utilization. Steel analysts over the world have been endeavoring to create steel items to meet these particular market needs. This examination has prompted the advancement of TMT steel bars with a yielding quality of 500 N/mm², 550 N/mm2 and 600 N/mm2. These bars, as a result of higher quality than conventional steel bars, are required in lesser amounts, in this manner, decreasing the general expense of the structure essentially.
Fe 415 grade
Fe 415 TMT is a ductile reinforcement bar and is highly cost-effective that is manufactured for small-scale construction projects. It very well may be effectively bowed into the most mind-boggling shapes, making it ideal for little burden developments.
Fe 500 grade
The Fe500 grade is for the most part viewed as a market-standard across numerous construction projects. Fe 500 TMT bar grades are like Fe 500D and Fe 500S, which are additionally famous decisions that offer more prominent seismic security, stability and ductility.
Fe 550 grade
Fe 550 grade bars have greater tensile strength and can be utilized over a scope of enormous scope ventures.
Fe 600 grade
Fe 600 is one of the strongest TMT grades that construction projects can procure while growing rock-solid foundation ventures, spans, marine offices, and so on. They offer more noteworthy elasticity, diminish generally utilization, and guarantee lesser steel clog inside the reinforcement support.
Mechanical Compositions of Fe 415, Fe 500, Fe 550 and Fe 600 TMT grade bars
Property

Grade

Yield Stress/0.2% Proof Stress.

(Minimum) N/mm2

Fe 415

Fe 415D

Fe 500

Fe 500D

Fe 550

Fe 550D

Fe 600

415

415

500

500

550

550

600

Tensile Strength, Minimum

10% more than 0.2% PS, but not less than 485.0 N/mm2

12% more than 0.2% PS, but not less than 500.0 N/mm2

8% more than 0.2% PS, but not less than 545.0 N/mm2

10% more than 0.2% PS, but not less than 565.0 N/mm2

6% more than 0.2% PS, but not less than 585.0 N/mm2

8% more than 0.2% PS, but not less than 600.0 N/mm2

6% more than 0.2% PS, but not less than 660.0 N/mm2
Chemical Compositions of Fe 500, Fe 550 and Fe 600 TMT grade bars
| | | | | | |
| --- | --- | --- | --- | --- | --- |
| Constituent | Fe500 | Fe500D | Fe550 | Fe550D | Fe600 |
| Carbon | 0.3 | 0.25 | 0.3 | 0.25 | 0.3 |
| Sulphur | 0.055 | 0.04 | 0.055 | 0.04 | 0.04 |
| Phosphorus | 0.055 | 0.04 | 0.05 | 0.04 | 0.04 |
| Sulphur + Phosphorus | 0.105 | 0.075 | 0.1 | 0.075 | 0.075 |
Uses of Fe 415, Fe 500, Fe 550 and Fe 600 TMT grade materials:
Fe415 is utilized for strengthening residential homes,and small-scale structures. They have high uniform prolongation and can be utilized to create ventures in seismic tremor inclined districts. Development firms may likewise settle on Fe415S or Fe415D in the event that they require extra seismic security or pliability. Fe 500 bars can be utilized over a scope of private, business and multi-story ventures. They offer more noteworthy rigidity than Fe 415 and are exceptionally produced to give solidness to skyscraper ventures while opposing burden better. Furthermore, Fe 500D bars offer more prominent pliability, making them ideal for development in territories with high seismic movement and abrupt burdens. They have a prevalent least rate prolongation of 16%, contrasted with that of Fe 500's at a standard 12%. Development acquisition chiefs can source Fe 550 evaluation TMT when creating mechanical and enormous arrangement foundation ventures. Scaffolds, mechanical undertakings, and structures requiring high burden-bearing limits can use Fe 550 grade TMT. They're particularly significant in beachfront, marine and underground conditions too. Fe 600 might be utilized in the development of freeways, metro ventures, plants, towers, business properties, and mechanical zones. They're utilized widely when enormous scope ventures should be created keeping load-bearing, toughness, and erosion obstruction at the top of the priority list.
Superior properties of Different types of TMT bar Grades:
Ease of bending, rebending and reverse bending
Can be Butt-welded/ Lap welded
High corrosion resistance.
No significant changes in strength with the passage of time due to aging.
Weldability and excellent ductility
Easy bendability factor
Ideally suitable for a concrete structure.
No huge change in quality at high temperatures.
The use of different types of tmt grade rebars ensures around 15-17% savings in steel.
Low carbon content.
High yield stress, higher rate prolongation, ultimate tensile strength and higher percentage elongation.
There are different grades of TMT bars accessible in the market in that major are Fe 415, Fe 500, Fe 550 and Fe 600 TMT grades. The grade represents the strength, quality and unbending nature of the bar, explicitly the yield quality of support. It is exceptionally important to pick the correct grade, depending upon the kind of structure. During the basic plan of the structure, the architect chooses the suitable dependent on material accessibility and cost contemplations. The most generally utilized steel grades are Fe415 and Fe500 which gives adequate solidarity to a large portion of the reinforced concrete applications.