Why Choose SteelonCall for Hassle-Free Steel Purchases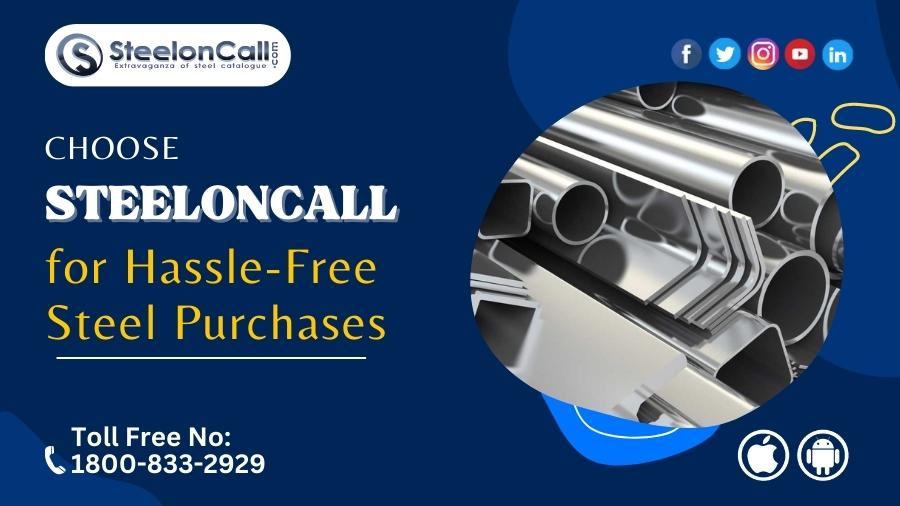 With the rapid advancement of technology, online steel selling has emerged as a convenient and efficient method for procurement.
SteelonCall, a reputable platform for steel online purchases, provides consumers with a hassle-free shopping experience. Through their user-friendly website, customers can peruse a vast selection of steel products, compare available options, and make online purchases without difficulty.
This platform ensures secure online transactions, on-time delivery, and quality control, making it an ideal choice for hassle-free steel purchases made online.
Wide Range of Products

One of the significant advantages of online steel selling is the vast range of products available to customers.
SteelonCall is proud to stock a wide variety of steel products to meet the needs of numerous industries. SteelonCall stocks various steel grades and types, from structural steel for construction projects to stainless steel for kitchen appliances.
Flat steel, long steel, tubes and pipes, and specialized steel goods are just some options for shoppers. SteelonCall has you covered whether you need hot-rolled steel, cold-rolled steel, galvanized steel, or alloy steel. The platform is customizable in size, thickness, and other parameters to match the requirements of every given endeavor.
Whether you're in the market for a steel product for building, manufacturing, or fabricating, you'll have no trouble finding what you're looking for here. Customers looking for a wide variety of steel items will find that online steel sales are the best option due to the availability of a large inventory.
Convenient Online Purchase Process
SteelonCall ensures a convenient online purchase process designed to simplify the steel procurement experience for customers. After signing up and creating an account, consumers get access to a straightforward interface that simplifies the platform's complete shopping process.
Customers can quickly and easily browse the site's many steel product categories, sizes, and specifications. Customers may make educated purchases based on the needs of their projects thanks to thorough product descriptions and high-quality photos.
The online shopping experience at SteelonCall is built on the principle of complete openness. Customers can see prices up front, giving them a better chance to plan financially.
This guarantees a just and open price structure while removing the need for time-consuming negotiations. The platform also includes safe payment methods so users can confidently shop online.

Quality Assurance and Timely Delivery
When shopping for steel products, you must verify their legitimacy and quality. SteelonCall appreciates its clients' need for reassurance and goes above and above to deliver it.
We have developed solid relationships with well-respected, high-quality steel producers and distributors. SteelonCall works with these pioneers to guarantee their platform only features premium steel products.
SteelonCall is not only dedicated to supplying high-quality goods, though. Before steel products are made available for purchase online, they are subjected to stringent quality checks and inspections to ensure their authenticity and integrity. This method ensures consumers receive authentic, certified, high-quality steel for their construction endeavors.
SteelonCall is proud of both the quality of its products and the effectiveness of its distribution system. They appreciate the value of on-time deliveries to the smooth running of projects.
Customer Support and Satisfaction
Customer support and satisfaction are paramount to SteelonCall's commitment to excellence. We realize that satisfying customers involves more than just making a sale. That's why SteelonCall has a specialized support staff: to give every one of their customers the individual care and attention they deserve.
SteelonCall's support staff is well-versed in their products and is always willing to help their clients. Assistance with product selection, questions regarding pricing and specs, and resolution of any emerging problems are all areas in which the team excels.
Customers who contact the service by phone, email, or live chat may count on receiving speedy and informative responses.
To Sum Up

SteelonCall offers many advantages for hassle-free steel purchases through its online platform. Customers can find the specific products they need thanks to the vast selection of steel products available online, catering to various industry needs. Purchasing online eliminates the need to visit multiple vendors, saving time and effort physically.
SteelonCall's commitment to quality assurance guarantees genuine and certified steel products, and its efficient logistics network ensures on-time delivery. With a dedicated customer support team,
SteelonCall prioritizes customer satisfaction and resolves any issues promptly. Customers who choose SteelonCall for online steel purchases can experience the convenience, dependability, and peace of mind of utilizing a dependable platform for effortless procurement.