Your Ultimate Destination for Quality Steel Plates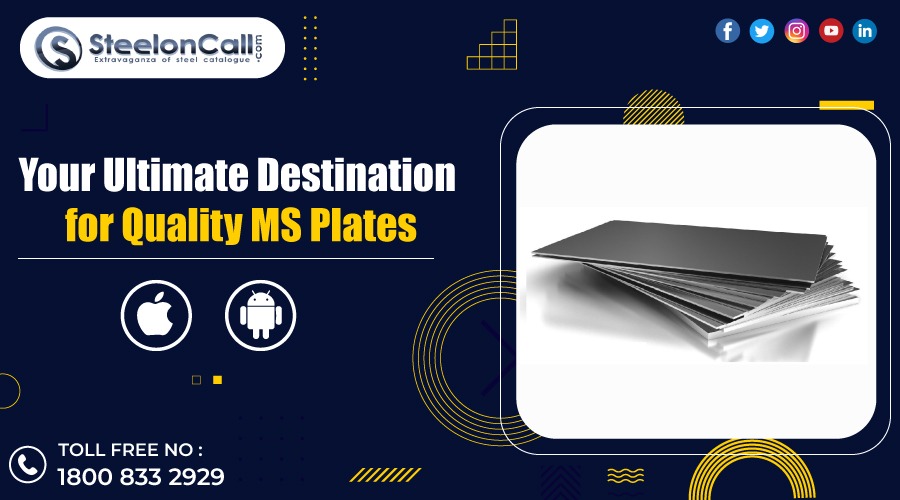 Finding a dependable and convenient supplier for high-quality steel plates can be problematic in the construction and industrial industries. SteelonCall, on the other hand, is here to make your search easier.
SteelonCall, a central online platform, provides a diverse selection of plate steel including metal platesfrom well-known manufacturers such as SAIL, JSPL, and TATA.
In this article, we will look at the high quality and wide range of steel plates available on SteelonCall, including popular grades such as IS 2062 E450 A/BR, IS 2062 E550 A/BR, IS 2062 E600 A/BR, and ASTM A572 50 KSI.
Extensive Range of Steel Plates and Grades from Trusted brands

SteelonCall has partnered with industry leaders like SAIL, JSPL, and TATA to offer you the highest quality steel plates. These manufacturers have earned widespread praise for their products' reliability, longevity, and cutting-edge design; they are, therefore, excellent options for your endeavours.
SteelonCall's IS 2062 E450 A/BR grade is ideal for structural uses thanks to its high strength and outstanding weldability. Because of its high resistance to impact and ease of machining, it finds widespread application in many fields.
The IS 2062 E550 A/BR grade is a superb option for individuals that need even more durability. Because of its superior tensile strength and toughness, this grade is well-suited for use in heavy engineering and construction projects.
If you need a superior strength and durability material, IS 2062 E600 A/BR is your best bet? It's perfect for building roads and bridges because it's solid and easy to weld.
High yield strength and outstanding formability are hallmarks of the ASTM A572 50 KSI grade made accessible on SteelonCall. It is used in places like bridges, buildings, and machinery where durability and protection from corrosion are of the utmost importance.
Convenience and Accessibility
SteelonCall's accessibility and ease of use are two major selling points. SteelonCall is a time- and energy-saving online platform that replaces the requirement for customers to visit various steel providers in person. From the convenience of your desk, you can peruse a variety of steel plate brands and grades.
SteelonCall ensures its customers can access detailed product descriptions and specifications for each steel plate. This information empowers you to make informed decisions based on your specific requirements. Additionally, SteelonCall offers a seamless ordering process, allowing you to select the desired quantity, dimensions, and grade of steel plates with just a few clicks.
Quality Assurance and Competitive Pricing
Regarding steel plates, SteelonCall understands the need to maintain a high level of quality assurance. Due to this, all of the plates that can be purchased through their platform come straight from recognized manufacturers, ensuring they are of exceptional quality and comply with applicable industry requirements.
Each ms plate is given a comprehensive inspection and put through a battery of tests to guarantee its durability and effectiveness.
SteelonCall remains dedicated to competitive pricing even though it sells steel plates of the highest quality. SteelonCall can provide cost-effective solutions for your steel plate needs because they have removed all mediators from their supply chain and improved efficiency.
This guarantees you will earn the highest return on your investment while maintaining the highest possible quality standard.
SteelonCall also understands the significance of timely delivery. They have created a reliable logistics network to guarantee that your steel plates will reach you on time, allowing for the smooth execution of the project.
Customer Support and After-Sales Service
At SteelonCall, customer satisfaction is a top priority. If you have any questions or problems, their customer service department stands by to help. Support is available at every process stage, from choosing the proper steel plate quality to tracking your transaction.
Furthermore, SteelonCall's commitment continues after the sale. They offer extensive support after a customer makes a purchase, meeting any needs that may arise. SteelonCall has distinguished itself as a leading industry partner thanks to its dedication to satisfying its clientele.
To Sum Up
SteelonCall is the best place to find and buy steel plates online. SteelonCall provides a wide variety of steel grades and brands to meet the needs of various industries. These include IS 2062 E450 A/BR, IS 2062 E550 A/BR, IS 2062 E600 A/BR, and ASTM A572 50 KSI, to name a few.
SteelonCall is the key to unlocking the potential of successful projects through its convenience, quality, and cheap pricing. See how steel plates will be sourced by visiting their website right now.