Buying construction steel online turns ecommerce platforms into a trendsetter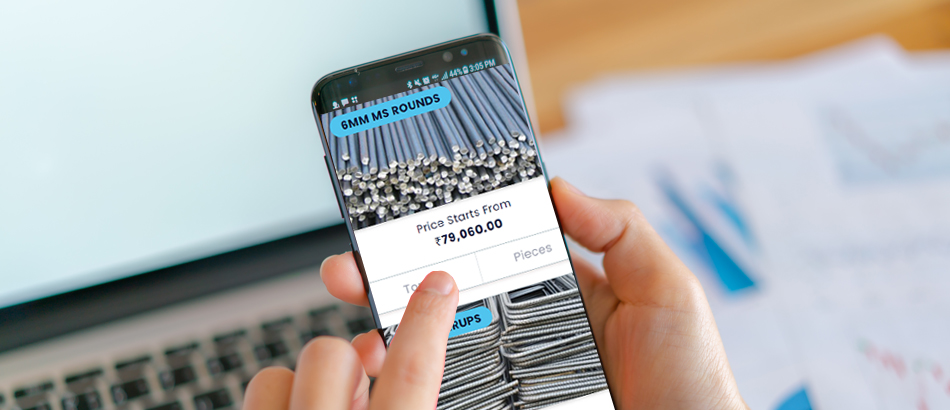 Think of what Amazon, Myntra, Flipkart, Big Basket and several other online platforms have done for sales of a wide array of products. These platforms have embarked on drastic transformation in the buyer and seller markets across the world by digitising the marketplace.
Today, anywhere, anytime, customers can choose from a vast choice of sellers, in the digital ecosystem and quickly find the products that they are looking for, themselves. Sellers, on the other hand, can reduce their advertising expenditure, and yet have access to more buyers than ever before, because the platforms are definitely more likely to get them connected with customers in a more focused manner than through traditional advertising, on their own.
Buying construction steel online is not indifferent. Though the online marketplace for steel trading took a little time to take shape and make its mark, now that it is an option, more and more customers are flocking to this online space.
Manufacturers, stockists and other verified, authorised sellers of the metal have realised the value of registering themselves on platforms such as Steeloncall, India's most trusted online steel buying and selling platform. For customers also, the benefits of buying steel online are many. In this blog, we are going to take a look at some of the benefits of buying steel bars and other steel materials for construction, online.
Advantages of buying construction steel and fabrication steel, online
One of the most obvious advantages is that buyers can choose the type of steel that suits best their need, from a wide range of steel sellers. Almost always these days, reputed manufacturers of construction steel are registered on reliable online steel trading platforms, so buyers get the advantage of selecting from among the best in the industry.
Platforms such as SteelonCall provide Quality Test Certificates to customers, along with the purchased material. This is because; Steeloncall has tie-ups with verified suppliers only.
Buyers of different types and grades of steel can access all the products they want, on a single platform. For example, unlike a physical market where a builder or construction procurement team will have to place multiple orders with manufacturers of different steel parts, an online platform makes all this available at a single stop.
The A – Z of construction grade steel is listed on the online steel platform. It is organized by material, shape, size and price, making the entire experience transparent and convenient. The option to specify lengths, widths and dimensions of steel products ultimately helps builders to complete their projects on time.
The opportunity to analyse the inventory picture in real time is another key benefit while ordering construction steel online. This gives the buyer a clear understanding of what to expect and thereby he can plan his own stock and inventory based on what is readily available.
The online steel market offers buyers huge savings in terms of time because all the required materials that are made of steel can be ordered online, using a single platform, without being restricted by working hours and without having to be physically present. Buyers can assess product availability, comparative costs, delivery timelines, and supplier credentials before making a purchase.
For online steel trading, buyers only need a computer with an internet connection and a relatively up to date internet browser.
The process to make recurring, standard orders is very simple. By just clicking the mouse, an order can be placed and delivery will be assured.
Online platforms sometimes offer financing options that go a long way in boosting sales. Reliable online steel trading platforms have tie-ups with banks and financial institutions that offer EMI options to customers. Payment options include Cash On Delivery (COD), Debit Card, Credit Card, Cheque payment, NEFT/RTGS, online payment through CCAvenue gateway, etc.
Buyers can now view, order and track the products via a mobile app. This facility gives them the advantage of planning their schedule and delivering on timelines.
Reliable online construction steel trading platforms offer hassle-free logistics such as doorstep delivery, 24x7 customer supports and after sales service.
Buyers do not have to worry about supply shortages. Once an online order is placed, buyers can be confident that the steel bars will be delivered to the desired location. This is because the product quantity is specified during the online buying process and orders are placed only based on existing availability.
The online steel purchasing platforms, therefore, create opportunities to purchase steel with more convenience, time saving and a lot more transparency
Flexibility in terms of order volume. There is no minimum or maximum purchase value. Buyers can order as much or as little as they need.
Platforms such as Steeloncall have established relationships with trustworthy suppliers, and are always monitoring their distribution chains to ensure they can provide the materials with flexibility and satisfaction.
In case buyers do not find products that fit a specific requirement, the platform's sales team is there to support them with products that are not visible on the platform.
Steeloncall has brought into prominence its unique features that display real-time prices online. For example, the price fluctuations of construction steel, on a day-to-day basis will be displayed online for the benefit of the customers.
Easy return and refund policies on platforms such as Steeloncall is reassuring to buyers of construction steel and fabrication steel.
Platforms such as Steeloncall endorse local manufacturers of quality steel, by showcasing their products on the platform. This is a big support for the Make in India initiative by the Government of India.
While all of the above are clear advantages of buying construction and fabrication steel online, buyers are cautioned that they must rely on reliable platforms. They must make it a point to check for enlisted reputed manufacturers and build a reputation of credibility for themselves. Since construction steel is a critical and expensive commodity and any platform that is dealing in the commodity must have fool-proof data security in place. Buyers are advised to scout around and collect enough feedback from past users of the platform before making a purchase.