Online buying of construction grade steel: Trends in 2021 and beyond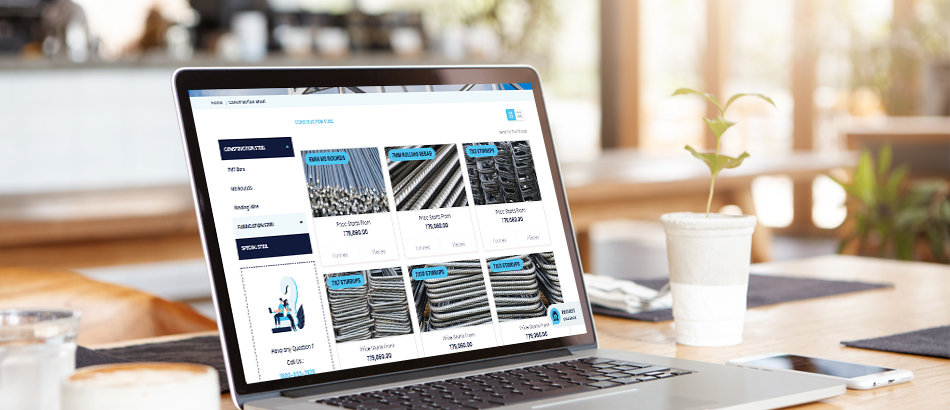 By way of increasing urbanisation and the fast pace of infrastructure development, the demand for construction steel is rising. This can be seen in the increasing consumption of the metal, by this industry, all around the world. Out of 1,864 million metric tons of crude steel produced in 2020, today, almost 50% of the demand for steel comes from the construction industry.
Steel is affordable, readily available and safer to use in construction because it helps to maintain the structural integrity of a building or an infrastructure project. It provides the safety and strength that any building requires. As a result, metal buildings have become the preferred choice for industrial designers, architects and energy experts.
However, steel's key strength lies in its reusability and longevity. The metal does not lose its properties when recycled and reused. In fact, whatever the grade or application, steel can always be recycled; with new steel products containing 30% recycled steel on average.
Steel's sustainable features assure it an important role in the future.
Sustainability is a growing concern
As sustainability is becoming more and more centre stage, across the world, steel is trending as one of the most suitable materials that provide longevity, safety and sustainability in construction and infrastructure building.
This focus on sustainability is being driven by climate change which is the most critical issue of the 21st century. As a response, the steel industry is looking at ways of reducing the footprint from its operations and the use of its products.
Steel has properties such as anti-corrosiveness, flexibility and bendability, which make it stand the test of time and allow for improved environmental performance, across the entire life cycle of buildings.
As per the World Economic Forum, today, it is the world's most commonly used metal and most recycled material.
Steel buildings – an emerging trend
There is an emerging trend of steel buildings in all the major metros of the world. In India, landmark steel buildings such as Restello Living, a residential scheme in Kolkata- India, for TATA Steels is an example of steel buildings. Steel has been used innovatively and aesthetically. As the main construction element, steel suits the damp and humid Kolkata climate. The metal's resistance to dampness and soiling allows drywalls and a polished exterior. The eco-friendly construction is clean and green, with no dust and grime. It is low on maintenance and generally a less expensive material than several others, including stone or wood.
Generally, steel buildings offer better thermal efficiency. Most importantly, they are less hazard and offer excellent earthquake resistance. Steel buildings are ideal for a wide variety of businesses working across countless fields and industries. From residential complexes to factories and office complexes, from entertainment facilities such as theatres to airports and bridges and flyovers, steel structures can be found today in almost every type of business. Steel frames for car parks, steel aircraft hangars, steel operation theatres…the list is long.
Other than complexes and high-rise buildings, specialised steel is used for well-engineered structures such as bridges, tunnels, skywalks and flyovers, made from structural steel that is designed to carry loads and provide adequate rigidity, flexibility and strength.
A heartening trend that is also noticeable is that builders are placing greater focus on using trained local labour to facilitate the assembly of durable metal structures. What emerges is a winning situation for all.
Online buying of steel
In the past, building contractors and civil engineers would purchase steel either directly from the manufacturer or from the market. However, in the last decade, digitization has redefined the marketplace. Markets are no longer brick and mortar spaces.
Instead now, they are online platforms that connect businesses with buyers. And buyers who used to reach out to suppliers through traditional methods, like physical visits and phone calls, now browse the net before buying. This obviously means that buyers like to shop around online and compare several options before making a final decision.
E-commerce has become the leading buying trend for both B2B and B2C markets.
Having understood the above fact, the steel industry is looking carefully at what customers are looking for, at present and in the future. It is looking at online platforms as an important bridge between demand and supply.
What buyers are looking for online?
Buyers in the construction industry include builders of schools, hospitals, office complexes, tech parks, residential complexes, factories, bridges, flyovers, airports, hotels and every other building that will be used by women, men and children.
Research by industry bodies suggest that buyers are looking for the following:
a) Quality
b) Best price
c) Ease of online purchase
d) Product inventory options
e) Customer service
In the case of ease of online purchase, it is being seen that the following facts act as determining factors for a purchase:
Credit limits
Quoting
Price list
Purchase orders
Quick order forms
Purchasing approvals
Financing
Bulk pricing