Usages of Hole Punching, Notching & Drilling?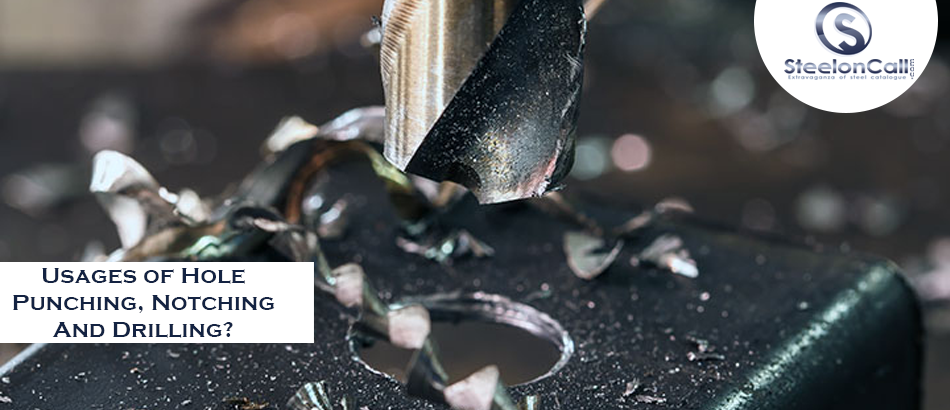 To know which is better on Hole Punching, Notching, and drilling, it depends on the variable, people are trying to optimize. Based on the priority, the utilization is had. On the construction field, the necessity of these Hole Punching. Notching and drilling are more when contrasted with others. To fortify and to get the required shape of the material, these are utilized in high way.
To upgrade the expense for a hole, drilling is cheaper than punching.
To limit the distortion of the work-piece, drilling is better.
To minimize the warming of the work, for example, to anticipate work hardening, punching is better.
HOLE PUNCHING USAGE
For Creating holes in sheet materials, Hole Punching is the simplest and less expensive technique. Through-hole punching, the process of getting holes is simpler and it will save time. Hole Punching is utilized to make various usable parts from a sheet of material, the procedure is known as blanking. In metal forging applications the work is frequently punched while hot, and this is called hot punching. When punching a hole, the force applied on a material can be electrical, hydraulic, pneumatic, or even manual. Through this hole punching process, the process of getting the required shape holes easily. The major advantage for Hole punching is that it doesn't depend on a sharp device turn, yet rather shearing force. This implies gap punching has the adaptability to make squares, triangles, ovals, and numerous different shapes. As this hole punching process is majorly used on high production sheet metal fabrication such as automotive components, aeroplane bodies, and decorative work.
BENEFITS OF HOLE PUNCHING
Hole punching is a quick and effective procedure.
Comparing to other fabrication materials that are used in construction, this hole punching process is less cheap and is affordable for everyone to utilize.
It is the most cost-effective process of making holes in the strip or sheet metal for average to high fabrication.
It is able to create multiple shaped holes.
The punch force required to punch a piece of sheet metal can be estimated from the following equation: F=0.7tL(UTS)}
NOTCHING USAGE
Notching is a Shearing process that removes the outside edge of a metal workpiece from sheets or plates easily. Notching is capable of making different angle notches (achieved by modifying the area of the workpiece). It produces cuts impractical when utilizing the shearing process. It can be used as a process to facilitate later roll forming or stamping processes. Notching is primarily used before a subsequent bending or forming operation. The tooling used in the notching process normally has only two blades, set at 90° angles to each other. So that, it will easily notch the material.
DRILLING USAGE
Drilling is not a shearing process. Drilling is the process of removing material by using a drill bit. Drill bits are long, sharp instruments with or without flutes. The cutting edges continue to travel outwards from the hole, producing more chips. Drilling is similar to hole punching in that it requires the use of a drill bit. Furthermore, unlike punching or notching instruments, drills can effectively handle very thick materials. Drilling can likewise perform fractional thickness gap creation. The major disadvantage of drilling is constrained in geometry. Since it expects a turn to be performed, just roundabout gaps can be made with drilling. When the drill is just protruding through the metal that is being drilled, care is needed to prevent the drill from being pulled quickly into the partly cut hole and thus being broken.
The usages for Hole Punching, Notching and drilling are clearly clarified by steeloncall.com. Just have a look to know the complete utilization of these three processes on construction.